The Problem
An Unmet Need for Improved Adherence and Security in Medication Delivery
The Great Challenge in Achieving Effective Medication Delivery
Is healthcare provider-prescribed medication taken in the right amount by the right person at the right time?

Each year, U.S. non-adherence accounts for at least 10% of hospitalizations, more than 125,000 untimely deaths and avoidable healthcare spending in the range of $100-$300 billion. (2)
♦
20% - 30% of patients do not fill prescriptions
♦
50% fail to take medications as directed


What happens once medication is prescribed?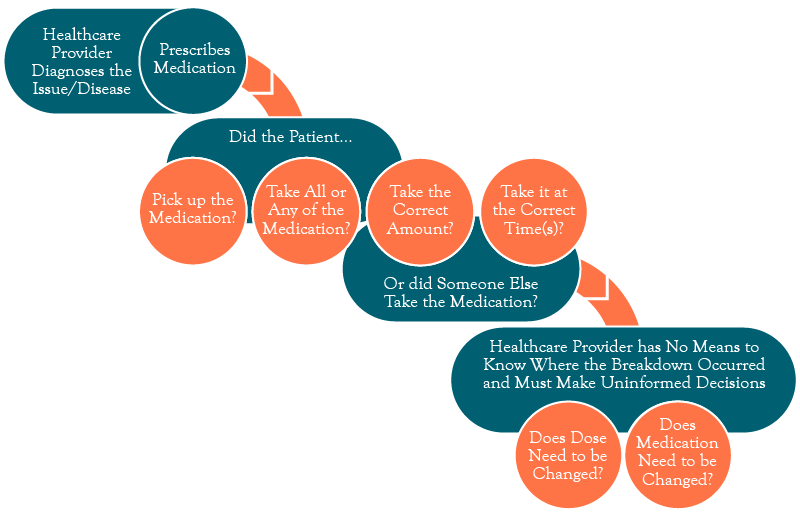 Threats from Non Adherence and Non Compliance can lead to Healthcare Complications, Additional Chronic Conditions, Hospitalization, and Death Security Risks for Patient Taking the Wrong Dose, Taking Dose Too Often, or Someone Other than the Patient Taking the Medication
The Need to Treat Patients Who Suffer from Chronic Pain While Reducing Improper and Non-Medical Use
Nearly 100 million people in the U.S. suffer from chronic pain.
♦
~15 million of them are long-term users of opioids to control their pain.
♦
20% of long-term opioid users (approximately 3 million people) are at high risk for abuse.
♦
Even patients not considered high risk who utilize opioids have up to a 30% likelihood of abuse.
♦
High-risk patients are currently monitored for abuse through urine tests, bottle counts, prescription monitoring, and pill dispensers, which physicians note are time-consuming, may not be covered by insurance, and can't ensure who, if anyone, has actually taken the medication.
♦
Significant unmet need to enhance patient outcomes, increase healthcare, and reduce liability.
There is a need to treat patients who suffer from substance use disorder
The National Institutes of Health have defined narcotic addiction as a chronic medical disorder.
In 2018, ~2 million people had an opioid use disorder, which includes illicit drug use & prescription pain medication containing opiates and heroin.
~400 thousand people are on Medication for Opioid Use Disorder (MOUD), which uses methadone medication in combination with counseling and behavioral therapies, to provide a "whole-patient" approach to the treatment of substance use disorders.

FDA-approved drugs (i.e. methadone) are used to treat opioid use disorders related to short-acting opioids such as heroin, morphine, and codeine, as well as semi-synthetic opioids.
Research shows that a combination of medication and therapy can successfully treat these disorders, and for some people struggling with addiction, MOUD can help reduce opioid overdose and reduce the transmission of infectious diseases associated with heroin injection.
Patients while in treatment with methadone are at lower risk of death, are less involved in crime, and feel and function better than while using heroin.

Prior to COVID 19, the vast majority of patients were required to visit a clinic every day for their MOUD, which adds significant cost and burden to the patient and the healthcare system.

~ 20% of patients may be given privileges to take some of their doses at home.
Take-home therapy has significant advantages to the patient's quality of life and ability to work, but it comes with the inherent challenges related to ensuring the medication is taken as described and taken by the actual patient.